August 2017 - Evolution of Printed Circuit Boards
Published on: 16/08/2017
With the rapid evolution of LED Lighting technology, the production of PCBs needs to be more responsive to change than ever before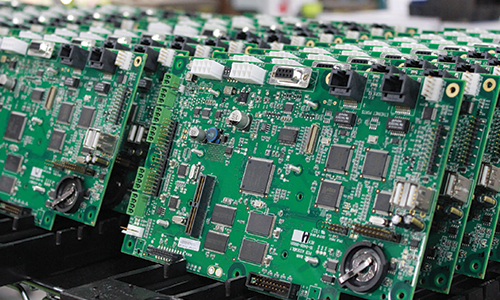 There has been a noticeable shift in the approach to industrial and domestic lighting with an abundance of customers making the transition from traditional fluorescent lighting to next-generation LED technology. Offering a more cost effective solution at a lower power consumption and longer operating cycles are amongst the key benefits of the revolution.
The LED revolution has had a positive impact on PCB design (printed circuit boards). Five years ago, suppliers would have hoped to achieve 100 lumens per watt from a PCB, now an output of 180 lumens is frequently achieved and there is a strong possibility that the 200 lumens barrier will be demolished before the end of 2017.
One of the key elements of change has been the availability of white, efficient LEDs. Recently there has been a move towards lower powered LEDs, leading to the incorporation of more, smaller LEDs on a circuit as opposed to a smaller number of larger LEDs.
The heat generated by each individual LED has decreased and it is possible to spread the heat around the circuit board, reducing the number of thermal management issues.
Historically, the majority of PCBs have been sourced from the Far East but delivery times would exceed four to five months at which point they were often being rendered as old technology before each consignment had been exhausted. This has caused a shift in manufacturing and now more and ore PCBs are being manufactured in-house in the UK. The benefits of designing and building your own PCBs in-house include:
1. Fully responsive to new requirements and designs
2. Shorter lead times, ensuring a fast turnaround with no unexpected delays
3. Increase scope and efficiency of production
The advantages of improved LED lighting efficiency and PCB design can now be transferred to customers in record time. With the competitiveness of the LED lighting industry increasing all of the time, and end-user expectations of output and lifecycle becoming evermore exacting, it is likely that more suppliers will look to consolidate every aspect of production, where necessary.
GD Rectifiers supply heatsinks used for cooling power LED lighting devices, they work with customers on the design and build of customised solutions, as well as providing technical advice and support on the entire process. GD Rectifiers are able to design initial prototypes, pre-production samples and a full production run for most power LED lighting cooling requirements.
For further information on Heatsinks or to discuss your enquiry please call: 01444 243 452 or email: .(JavaScript must be enabled to view this email address)