Insulators
GD Rectifiers stock a wide range of Busbar Insulators that are used in their assemblies. They also use these products to mount power fuses and heatsinks that require high mechanical strength, low tracking index, and voltage insulation. Hexagonal sections allow easy mechanical assembly and can be joined together to create longer lengths.
New Range of Busbar Supports & Fuse Mounts
Hexagonal DMC Insulators with encapsulated M6-M8-M10 inserts. Optional male studs also available. Material is red glass fibre reinforced polyester DMC, which is shatterproof, 160°C Working, High Arc Resistance, UL94-Vo, Reduced Flammability.
View the Busbar Support Datasheet here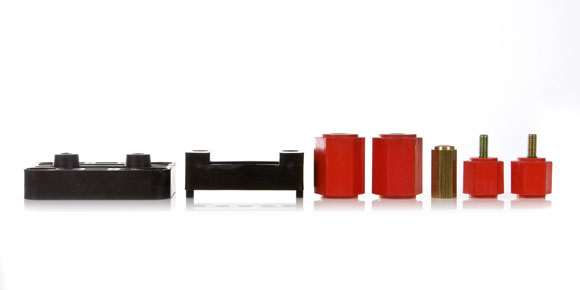 GD Rectifiers Ltd
GD Rectifiers design and manufacture Selenium and Silicon Rectifiers, Suppressors, Converters, Inverters and Regulator Products for industrial power control applications.
They are the UK's leading Distributor of power electronic components and hold extensive stock of Diodes, Thyristors, IGBTs and MOSFETs from the world's leading semiconductor manufacturers.
Further information:
You can find further information on GD Rectifiers Ltd using the following links:
Tel: 01444 243 452
Fax: 01444 870 722
Email: enquiries@gdrectifiers.co.uk